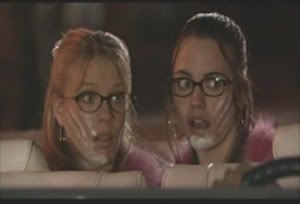 Saw Showtime's "Reefer Madness" on 4/20, and let me tell you, that IS THE WORST MOVIE EVER. It's a musical that makes fun of the original propoganda film the governement put out in the 30's. However, there was ONE great moment, and that's when Jesus decided to sing about marijuana.


Funniest song ever: Listen to Jesus, Jimmy!


Anyone else think Sean Paul jumped the shark with "We Be Burnin" ? We already heard "Gimme the Light"... nigga must be tryin to hit up that "Reefer Madness" audience


I saw the Honda Ridgeline for the first time on the road the other day, and is it wrong of me to look at it and know that oly Asians will ever buy that thing?


Why does this shit even make the newspaper? Really!


The funniest new hip-hop myth has got to be that Ciara is a MAN!

"I have heard a rumor that the R&B star, Ciara, was born male. That he/she decided that he wanted to be a female at the age of 5, and his mother let him grow his hair out. I was told that he had surgury, so he no longer has a penis. and apparently he/she was on Oprah having an in depth converstation about it, along with discussing it in a magazine article. "


Not the anyone cares, but after their 0-5 start... the Mets are 10-3 now. This smells good...


I've got a fever...


Best Facebook group ever! (If you look at the message board... one of those posts is mine)


What's the best score you can get here? (Damn! Shit is hard!)


Be Somebody... or be somebody's fool, BIATCH!


Trojan Commercials suck... Durex is funnier.


Kanye West's new single, "DIAMOND IS FOREVER".