(Definitely the greatest N.O.R.E. line ever!)
I'm excited about Surreal Life 5 already. Let's look at 2 members of the cast:
Bronson Pinchot!
"Can you believe it, cousin? They want me on American TV again!"


Jose Canseco
The Human Test Tube

I used to love to tease BlueEagle about his favorite group, Outkast, and how only white people REALLY like them. Well it just got worse. When you're song is redone by
Kenny G featuring Earth, Wind, & Fire
it is time to get another sound.
Damn...
John Leguizamo really wants some Mets tickets
... even though the Braden Looper fucked shit up! Oh, but you gotta realize Pedro is back to be the friggin man, and pimpslap you bitches! He struck out 12 of 14 batters from the 2nd inning on! Nasty!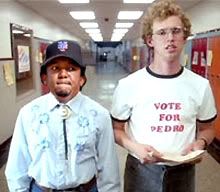 Ok... now to some fuckin Links...
If you're STILL NOT WATCHING Arrested Development, I need to shoot you. Check out the wonderful,
Mrs. Featherbottom, here
.
This guy could very well be the
William Hung of ESPN Dream Job
one day.
(I never saw the MINUTE-LONG Bacon Cheddar Ranch Commerical until today. Click the pic... it's good.)
Sin City was UNGODLY GOOD. Go watch it or cop the bootleg!
I got nothing to talk about guys... sorry.
Just know that not even today's loss will stop my Mets. Because
they've got the teamwork, to make the dream work!