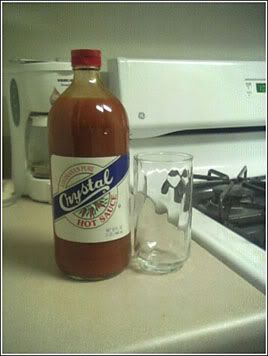 If there is one thing that the
FSU - UM
game told me, it's this:
Brock Berlin sucks............... but not as much as Chris Rix! How can you be a senior QB and be that bad? It's almost impossible to be in such a good program and be that bad. How does he do it?
I Cannot Believe It!
I love that picture. Speaking of which... why doesn't anyone talk about Eddie Murphy's night with a tranny anymore? That's some sick shit... we can't forget that! Everyone still remembers Hugh Grant and his black whore for Christ's sake. I love Eddie, but anyone that does
Pluto Nash
and "Whatzupwitu"
has got to be gay
, right? How can this be considered
straight?
Seriously....
Ok, damnit... Now I feel bad. Eddie, I'll redeem you:
"He good"
(2MB so wait for it)
So you thought you spent too much money at the bar before? Better start
checking under the cushions
for some loose change.
If you're not watching
"The Surreal Life 3"
you are definitely missing out. Flava Flav, Charo, Uncle Joey from Full House, Jordan Knight.... and yes...
Brigitte Nielson
! You may know her as Ivan Drago's wife in
Rocky 4
... or that HUGE BITCH in
Beverly Hills Cop II.
I have a feelin her and Flava Flav are bonin before the season is out... so trust the DPJ on this and watch, bitches.
And on that note... I leave you with one of my favorite commercials. The shorter spot on TV never does it justice, but now you get see the whole thing. Say "Thank You" for once, ya bastards!
"Status Call Reports Have Finally Met Their Rival"