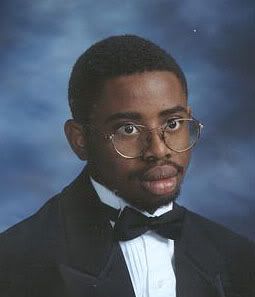 (Am I allowed to say something about those lips?)
Announcing a new link on the sidebar... HOT KARL'S BLOG. Dude had my favorite song on NBA Live 2003 Soundtrack, "Blao", and he's a Met fan to boot. Good shit! Between him and Pickin Boogers, you guys should know everything true about Hip-hop. Now on to the posts...
Wow... thanx to
Pickin Boogers
for pointing this out. I'm still in shock.
Gay-ass Willie
on the Real World is
Hector from the PBS Show, Ghostwriter
! I need to start watching the show more.... how come I never noticed that?
Speaking of never noticing... I feel like a dick for not realizing that there are two "TV houses" on my block as we speak. In less than a mile in each direction I have the
WB's Big Man On Campus
house, and the other way I've got the
VoyeurDorm
. God-damnit! I need to bonin the broads around here more
Everyone keeps talking about Howard Stern's
move to satellite in 2006.
. It's great that he'll be uncensored and all, but does anyone remember his Pay-Per-View special a few years ago? That shit wasn't funny.... it was just crazy.
Ok... Movie Preview Time:
Blade Trinity
:
Trailer
Looks like Darkness got himself a goatee. Not so sure If I can like it since it has Van Wilder and Jessica Biel (Who I will hate til she fuckin takes it off!)
Seed of Chucky:
Trailer
Goddamn! When will it end? Chucky's still a funny bastard, but this shit has got to end someday. They're driving his ass into the ground. Redman's even in the shit! I'd definitely bone Jeniffer Tilly though.
Batman Begins:
Trailer
You know, I really hated that they made the douche bag from
Shaft & American Pshyco
Batman, but maybe he's just psycho enough to pull this shit off. We will see, citizens!